This is part three of mine and Matt's 18 day interrail adventure in Europe! Over the 2 and a half weeks, we went to 5 countries across Europe, starting in Budapest. You can read how it all began here and my previous post on our second stop to Vienna here. This is a post about our adventures in Prague.
---
Prague in action
---
Day 1: Arriving in Prague
Prague has been one of those cities I've always wanted to visit, mainly because of what others have said about it.
"It's like going back in time." is how my friend had said in my first year at university.
Back then, I was still terrified of travelling even within the UK… never mind abroad, so I left all the travelling a few years later. With that said, I never passed upon hearing stories about the beautiful places my friends had explored. In my head, Prague was painted to be this enchanting place with streets that have aged in a beautiful way. I even imagined fairies flying around the enchanting city 🧚🏼‍♀️
Compared to the beautiful weather we had experienced in Vienna, Prague was a lot cooler. Once we had arrived, we decided to walk to our Airbnb – after 4 hours on the train, those 20 minutes were going to feel great for our legs!
It's no secret… I love water. Throughout the train ride, I was just drinking and drinking lots of water; you gotta keep hydrated y'all. Luckily there were toilets on board (which by the way, are so much nicer in European countries than in the UK) I hadn't thought that after we got off that I needed it, but during those 20 minutes, I needed it. Badly. 😂
Now I'm not going to write any more paragraphs about how horrible it was trying to do a self check-in into our Airbnb and figure out how to get in and where our room was. Unlike other Airbnbs so far, this was a studio that was in a little block of other studios. But in the moment, we couldn't figure out which one of them was ours because the doors all looked the exact same 😅 It was quite stressful the pressure (literally), but once we got in, it was great. 😂
How have you dealt with needing to pee really bad whilst on the road (without a toilet in sight, or, a toilet just behind one of the identical doors 🤦🏻‍♀️)?
Once we settled in a little bit, we headed out to the local supermarket to get some food for breakfast and dinner for the next 3 days. Just like most of our travel days, we don't get up to too much.
Contrary to popular belief, city breaks don't have to be exhausting, it's okay just to chill out. I think we balanced it quite well!
Day 2: A day of exploration!
We opted in for a 3-day travel pass. Like Vienna, it was easy to get around public transport – it was one ticket for everything and you could buy the ticket on your phone!
When I was planning the trip, I highlighted different areas I wanted to visit and under each one, specific things like famous landmarks, museums, cafés etc. Our first stop of the day was around the Vyšehrad area. It has a beautiful medieval fortress, with neo-Gothic St. Peter and St. Paul Basilica and a pathway around the fortress that gives some incredible views over the city and Prague Castle. This was one of my favourite spots in Prague, it was quite a refreshing start to the day walking around the fortress.
We then took a tram to Prague 1, formerly the Prague 1 Municipal District and is the home of most of the medieval landmarks are. This is the area we explored throughout the rest of the day, there were so many things to see and do!
On our trails, we found the moving head of Franz Kafka who was novelist and writer. This was a point of interest to Matt because Apache Kafka was a central part of his final year dissertation and is something he uses at work. 😂Apache Kafka was named after Franz Kafka because apparently the creator enjoyed Kafka's writing, and Apache Kafka is optimised for writing as in, writing-to-disc.
"I thought that since Kafka was a system optimized for writing using a writer's name would make sense. I had taken a lot of lit classes in college and liked Franz Kafka. Plus the name sounded cool for an open source project." – Source.
After this, we walked around to see the Man Hanging Out, a statue of Sigmund Freud. We almost nearly missed it in these streets of Prague, but I reminded myself to keep looking up! This work was by sculptor David Černý, whose work is actually found all over Prague.
As we explored the streets of the Old Town, we discovered the hidden gem that I can't stop talking about since this day! Chocolate Cafés – specifically Choco Café, located in Liliova 4/250, Staré Město. They served hot chocolate that were heavenly. I've never had such quality hot chocolate before in my life (and I have a lot of it – in moderation 😂) Matt ordered the "Peru" which was essentially melted chocolate in a cup. There were a vast number to choose from, if I had more days there we would've gone every day to try them all out! Honestly I'm drooling writing this. 🤤
Just around the corner was the Apple Museum. This wasn't on our itinerary, but once Matt spotted a banner just on one of the side streets, he was so excited to go in!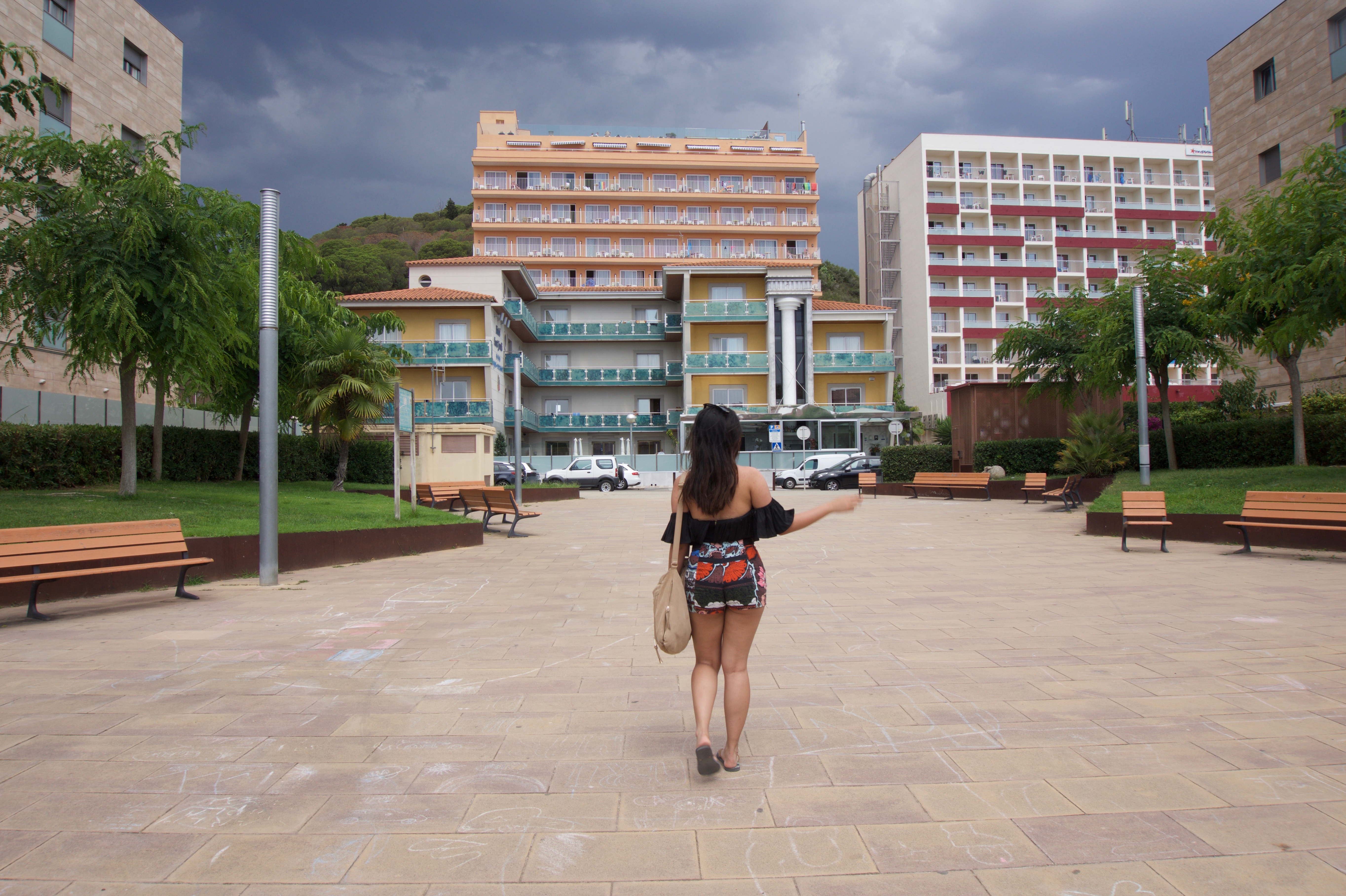 To our surprise, we read that it is one of the largest Apple product collection in the world. 😱It seemed a little random to be in Prague, I sort of expected it somewhere in the States! We ended up spending around an hour and a half looking around the museum, reading about the various Apple products and sharing our experience with my brother who is equally a hardcore Apple fan.
Overall, I would recommend this museum a visit – Apple fan or not, it was cool to see the progress in technology over the years. I left feeling quite inspired!
We then headed to the Old Town Square which had the Astronomical Clock – something I had only seen in photos on Google! It was pretty cool seeing it up close and watching others wait for it to move. 🕰 The clock displays astronomical information e.g. sun, moon, zodiac constellations. Local legend states that if the clock is neglected then the city will suffer; apparently the ghost on the clock is supposedly to nod its head when this happens. 😲
Although the Old Town Square was beautiful, I did find it a little crowded and was more mindful than ever about pickpocketing – this seemed like the perfect place for it! The square was extra crowded because of the Easter markets as well, but it was still quite charming with all the old buildings and clock around.
We took the tram from the Old Town to the Malá Strana area which like the Old Town Square was packed with tourists. On our way, we walked half way across the Charles Bridge which have statues of various saints and patron saints from 1683 and 1714. The final stop of the day was the Lennon Wall. As you can imagine, it was full of people trying to get a photo with the wall (including us 🙈) Someone had asked us to take a photo for them, so we got one in return which was great as we didn't get many photos (that weren't selfies) together. The wall itself was once a normal wall, but since the 1980s has been filled with John Lennon-inspired graffiti, lyrics from Beatles' songs and tourists writing their names on the wall.
Whilst waiting for our tram back to our Airbnb, Matt discovered a Filipino store across the road, "Pinoy – a taste of Asia." Excited about anything Filipino in a country that isn't The Philippines, we quickly went in to buy one of their juices. It was cool to see all these Filipino products from beauty to food and always nice to be reminded of home. 😁
On our way back, we actually ended up on a tram that didn't accept our tickets. Our tickets were valid for EVERYTHING ELSE but this tram as it was a tourist one that had a different ticketing system. I was always quite worried about getting on the wrong public transport, but luckily, the ticketing guy was fine with this and let us ride until after we crossed the bridge which helped us get another tram back home!
Day 3: Rain, rain, go away
Unfortunately, the next day was pouring it down with rain. This had ruined our plans to go up Prague Castle which was unfortunate as this was the only place I had left that I wanted to really visit. On the plus side, it gives me an excuse to return!
Feeling quite run down from this stage of the trip, we decided to look for a nearby gym (Euforie) to get a session in and to lighten our moods a bit after seeing the horrible weather. Luckily, there was one just down the road from where we stayed. One session was a total of 8 euros for both of us which I considered overpriced initially but at that point I was keen to get my body pumping! The gym was small, but had everything we need. It was nice to do some lifting after a week or so without doing any weight training. 💪🏼
What I packed for my trip was pretty much useless after this day, as it started to get colder and we were almost greeted with rain since. Matt and I decided to head to one of Prague's shopping malls, Palladium, to grab some lunch and look for a rain coat. We ate at Ugova Salaterie which served some filling, yummy salads. 😋
Initially, I wanted to get a cheap one from H&M, just to wear for the trip (I usually like researching the best product before buying it nowadays – an influence from Matt 😂) but decided to fork out and just get a good rain coat as I've never really had one that didn't drench my clothes underneath anyway.
As North Face have been one of my favourite brands recently, we had a look in there and found one that I really liked and was fantastic quality. After walking around the shopping centre, now equipped with a great raincoat, we headed outside and walked back to heaven on Earth… i.e. the Choco Café. 😂 At this point, you could say that I have a problem.
This time I ordered the Peru instead of a regular Hot Chocolate like the other day, along with, one of Prague's favourite desserts, TRDELNÍK. 😋 After going into a chocolate-filled coma, we headed home and decided to have a shorter day. Unfortunately, the rain didn't stop at all until we fell asleep. 🙁
Day 4: Bye, Choco Café…
I mean, Prague. 🤦🏻‍♀️
Even though we were unlucky with the weather after our second day in Prague, this was still my favourite city to visit. Okay, maybe the chocolate cafés are hindering my judgement 😜 Jokes aside, it was such a charming city that I had felt like I lived through my friends' stories and experiences, finally experiencing it myself was a great feeling.
We got up quite early the next day to our fourth stop… Hamburg, Germany! This was our longest train ride yet with a total of 7 hours. 😱 Until the next post 🇩🇪